Jeff Cook Cares: How We Served in 2020
Posted by Megan Garrell on Monday, December 21, 2020 at 1:29 PM
By Megan Garrell / December 21, 2020
Comment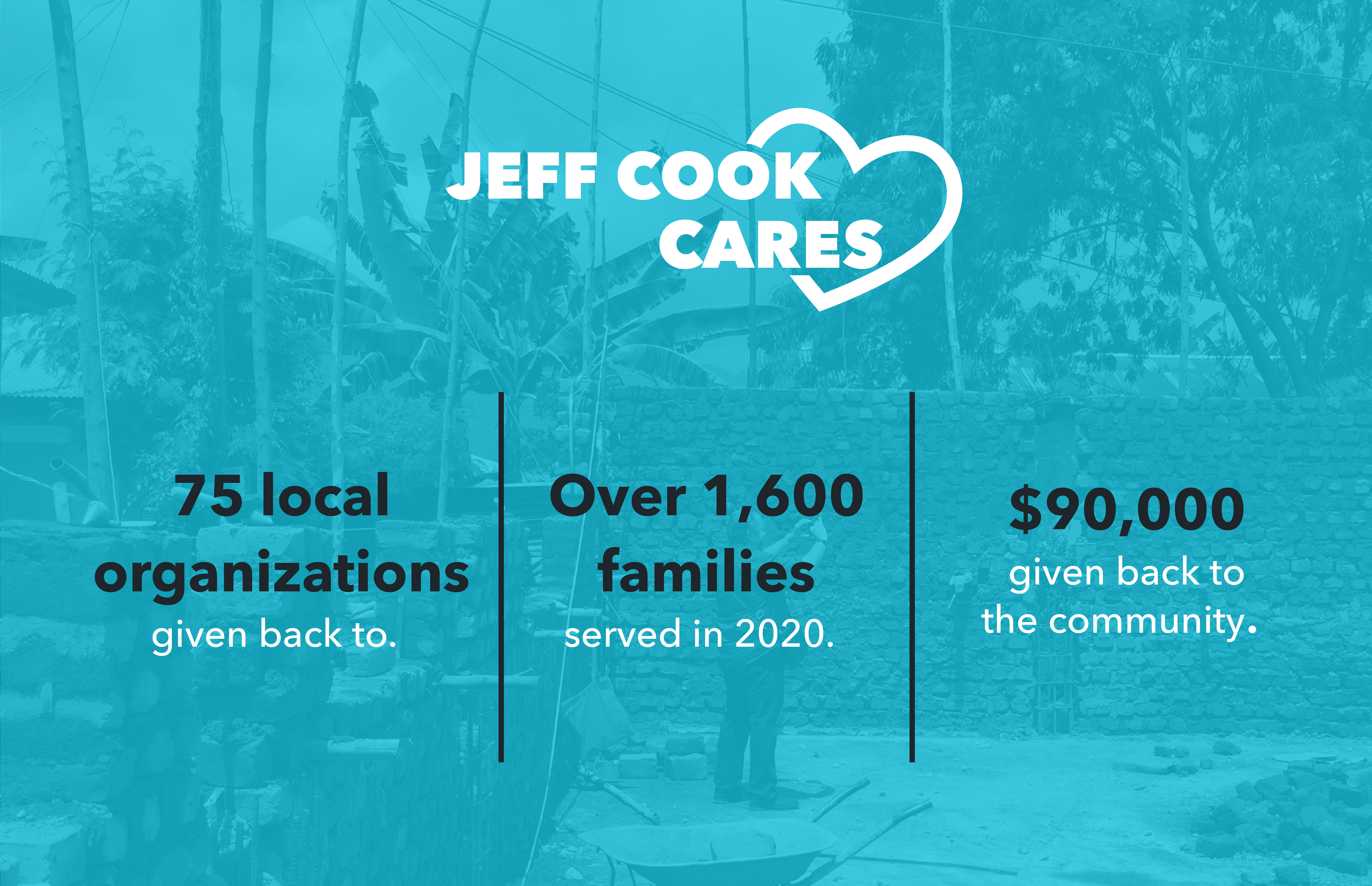 Jeff Cook Cares is a way for the individuals at Jeff Cook Real Estate to give back to their local community. With 9 locations across the state of South Carolina, Jeff Cook Real Estate has the opportunity to make a positive impact in the cities we're located in. Over the past 4 years, our company has donated time and money to the causes that mean most to us through Jeff Cook Cares.
With 2020 came new obstacles to overcome. We had big plans for Jeff Cook Cares and found ourselves working from home wondering what to do next. In order to continue serving the community, Jeff Cook Cares had to get creative with how we could engage with the public while still following the health and safety regulations for COVID. Here are some of the ways we continued to give back to the communities surrounding our offices!
COVID Relief
First responders and medical staff were on our hearts so each week we sponsored lunch for hard working first responders and hospital workers in the surrounding area. Focusing on our neighbors was a main point of our mission so we chose local restaurants to support when buying lunch to give back to those working hard in our area. We provided Katie's Krops and local teachers at Cathedral Academy lunch from small businesses such as Summerville Burrito Co. and Steel City Pizza.
Buy a Home, Give a Home
Buy a Home Give a Home was an initiative we launched in 2019, and in March of 2020 we had been planning for a Golf Tournament to benefit the initiative. The tournament was then pushed to June 2020 to follow the COVID guidelines for events in Charleston. Due to the immense amount of support from the community, Jeff Cook Cares is proud to announce that 7 homes in Peru and Nicaragua are almost complete because of the $70,000 we were able to raise! These homes will provide shelter and hope for the future for homeless families in need.
Moncks Corner Tornado Relief
In April of 2020, a storm hit an area of Moncks Corner and our company was told of a family in need. Their home was destroyed and Jeff Cook Cares was able to help the family and provide them with everything they would need to rebuild their home. Over 100 volunteers donated their time to come out and help clean the neighborhood where the storm hit the hardest. You can learn more about how Jeff Cook Cares was able to support Pam and her family here!

Day of Giving
In May, our company decided to encourage each office to choose the organization or cause they wanted to support in their community. Each of our 9 offices had the opportunity to give back to organizations such as Dorchester Paws, a local family in James Island, Camp Happy Days, Eagle Harbor Boys Ranch, Dee Norton Child Advocacy Center, Christ Central Ministries, Pilgrims in Women Shelter, first responders and hospital workers. Overall, Jeff Cook Real Estate offices raised over $6,000 in their efforts during the first annual Day of Giving!
Charleston Animal Society "Pawty"
Each year for Jeff's birthday, the company sponsors animal adoptions at Charleston Animal Society. 100 dogs and cats found new homes in September! Jeff Cook Real Estate agents and employees spent time meeting the new owners, helping make enrichment toys for the animals, and touring the Charleston Animal Society to kick off the end of the event.
Raise the Roof in Uganda
A new initiative for 2020, Raise the Roof is an effort to support the building of a community center in Mbale, Uganda. The center will be used as a worship center, recreation center for the children and a place to store crops and serve meals to the community. Our company's goal is to raise $70,000 total by matching $35,000 with Uganda Missions.
Closet of Hope
Closet of Hope is an organization providing clothing, bedding, toys and necessary supplies to children in foster care, kinship programs and adoptive families local to the Charleston area. Jeff Cook Cares donated over 50 backpacks to the children to use for the start of the school year and is currently participating in a toy drive for Christmas!
Christmas Giveback
Each year during the holidays, Jeff Cook Real Estate leadership asks the company if they know anyone in need this holiday season. Last year, Jeff Cook Cares was able to supply a single mother and her children with necessary household items and new shoes and toys for Christmas! Click here to read more about our contributions to the community in 2019!
Although this year presented our community with unique struggles, Jeff Cook Real Estate finds hope in the heart of this community. It's clear that when we all come together, we can do immeasurably more than we can alone. Our company is proud to continue to serve, give, and sell homes. Thank you for supporting Jeff Cook Cares when you buy or sell with Jeff Cook Real Estate!